Electrical planning
Electrical planning for modern sewer and stormwater management
Whether for rainwater basins or separating plants, the Steinhardt team of chemical and mechanical engineers, civil and electrical engineers can take care of your interdisciplinary electrical planning. We offer modern sewer management models for urban areas, for instance with our HydroGuard Flushing and Impound Protection or with HydroStyx Discharge Brakes, so that you receive not just the vital hardware but also software and electrical planning from the same source.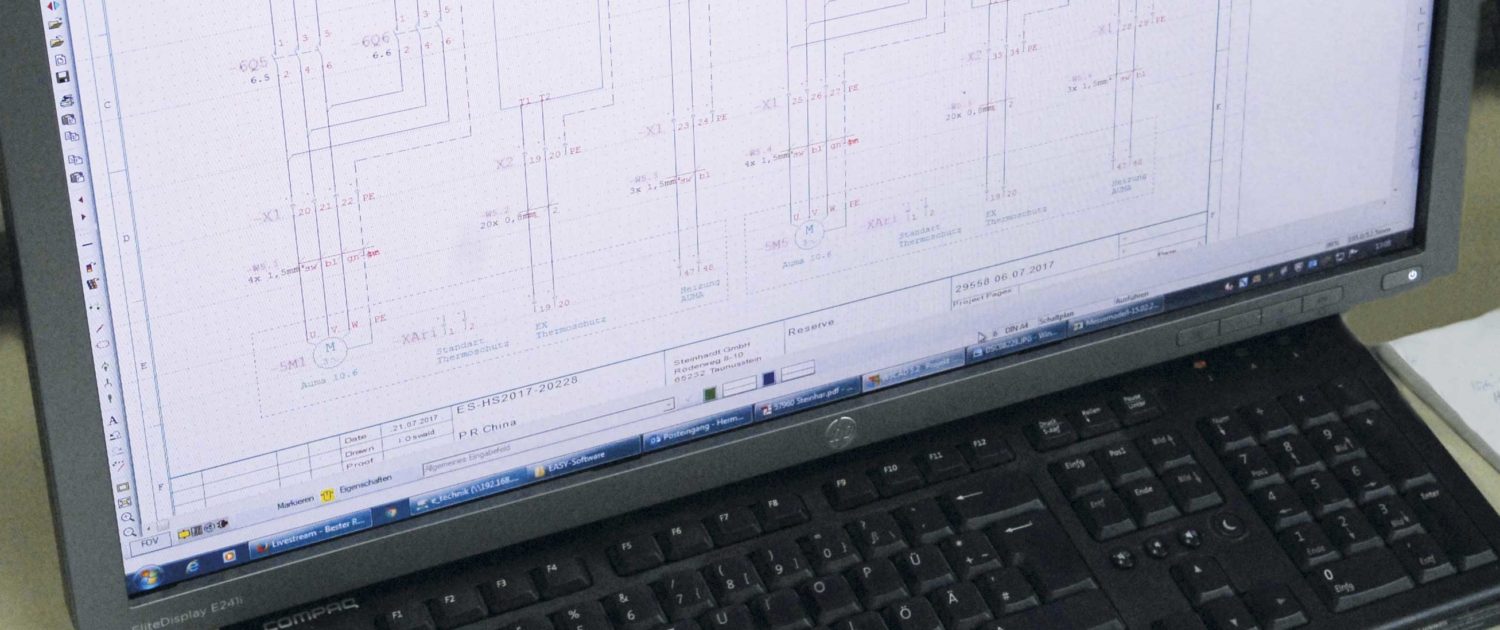 Whether you need equipment for sewer flushing, rainwater treatment or managing flood control basins, our offer will be tailored to your individual request, with scheduling and electrical planning included.
Detailed design
Execution planning with functional guarantee
The electrician's language is the circuit diagram. We offer you detailed design in accordance with the operational conditions of stormwater treatment. We structure your hardware set-up (operational equipment) and develop the necessary software according to your requirements and needs. You will have access to the wide experience of a team of civil and construction engineers, electrical and chemical engineers. We provide single-source service with functional guarantee.
Instrumentation
Electro-hardware, tailored to your requirements
Instrumentation includes all control cabinet components which have been determined during electrical planning and tied together in the detailed planning. All Steinhardt control cabinets are custom-made according to the type of technology, the installation location and intended operational field.
Typical components include:
Input panel
Emergency stop
Electrical supply
SPS
Backups
Light
Power points
Transmission unit, etc.
Automation
Automatising your stormwater basin or flood protection plant
Depending on the equipment and the measuring technology in question our experienced staff will take over the programming of your entire plant, working to predetermined flow charts. Your individually fixed specifications form the basis for the job.
Your advantages:
use of a multi-disciplined team
use of our complete range of know-how
use of existing mature program modules
use of our specialist knowledge in the fields of rainwater and wastewater treatment and flood protection
use of our in-depth know-how in the fields of discharge control, regulation and measurement
use of our experience in process planning
Model example – Stormwater treatment in the Sipplingen district
Visualisation
Easy-to-understand control panels
Self-explanatory product-related control panels are mounted on the control cabinets enabling simple and intuitive operation control by means of product illustration and function animation.
The animation visualisation sequences can be customised according to client request or taken from our stock of existing templates.
Control cabinet design
Approved safety and functionality
Steinhardt GmbH has been manufacturing control cabinets (for indoor or outdoor installation) since 1981.
During the production phase in Taunusstein, equipment and software are combined and subjected to intensive functional testing. Following this, operational safety is confirmed by means of extensive test protocols. Only after approval – and certification if necessary – will the complete unit be shipped. The control unit is assembled on site and then subjected to a repeat test for function and safety.
Even control cabinets which have not been assembled in-house are functionally tested, approved and certified. They are put into operation using central power connectors
Connection to a telecontrol system is possible at any time, should the client so wish. Only free software from Steinhardt GmbH is used to ensure access for third parties at all times.
Data technology
Data logging and analysis
Steinhardt GmbH offers data logging of your equipment with corresponding analysis, for example to identify maintenance requirements.
Steinhardt GmbH also offers the service of compiling a data bank of all Steinhardt plant within your area of responsibility.
Over and above this, we can perform remote maintenance via remote access, thus cancelling call-out charges and travel costs.
So, for instance, in collating overflow data, such key markers as water level, overflow intervals and volumes can be recorded on the spot or transferred via internet. We would be happy to take over the analysis of the collated data for you, to redact it and re-direct it to the relevant authority.
Nowadays digital methods of visual inspection save on personnel and maintenance costs. Send us your enquiry.